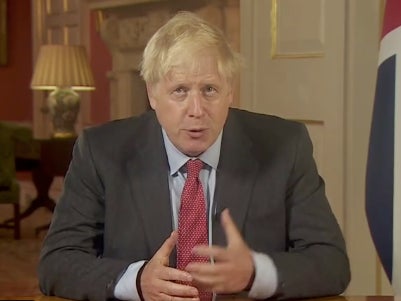 Boris Johnson has said there are "unquestionably difficult months to come" in the UK's fight against coronavirus, as he warned that tougher restrictions will follow if the public fails to follow the new rules.
In his third address to the nation since the outbreak of the pandemic, the prime minister said he was "spiritually reluctant" to introduce new measures, but said that unless action is taken now stricter curbs on freedoms will follow.
Earlier, in a Commons statement, Mr Johnson outlined new restrictions to tackle surging cases of the virus, including the introduction of 10pm curfews for pubs, restaurants and other entertainment venues, and new restrictions on weddings.
Speaking on Tuesday evening, the prime minister also appeared to pin the blame on a rise in infections on members of the public breaching the rules.
"We have to acknowledge this is a great and freedom-loving country; and while the vast majority have complied with the rules there have been too many breaches – too many opportunities for our invisible enemy to slip through undetected," he said.
"The virus has stated to spread again in an exponential way. Infections are up, hospital admissions are climbing."
The PM said a new national lockdown would threaten jobs and livelihoods across the UK, but warned: "If people don't follow the rules we have set out, then we must reserve the right to go further."
Mr Johnson added: "Never in our history has our collective destiny and our collective health depended so completely on our individual behaviour. If we follow these simple rules together, we will get though this winter together. There are unquestionably difficult months to come."
His comments came after government figures showed the UK recorded 4,926 coronavirus infections on Tuesday – the largest daily increase since 7 May. It is the fourth time in the past five days that infections have surpassed the 4,000 mark, having topped 3,000 just 11 days go.
Addressing the rise in cases, Mr Johnson went on: "We can see what is happening in France and Spain, and we know, alas, that this virus is no less fatal than it was in the spring, and that the vast majority of our people are no less susceptible, and the iron laws of geometrical progression are shouting at us from the graphs that we risk many more deaths, many more families losing loved ones before their time; and I know that faced with that risk the British people will want their government to continue to fight to protect them, you, and that is what we are doing, night and day.
"And yet the single greatest weapon we bring to this fight is the common sense of the people themselves – the joint resolve of this country to work together to suppress covid now."