Approximately 20 people have now been arrested and fined at protests at the University of Sydney.
Earlier, we told you that hundreds of students and staff had gathered without arrests in an outdoor classroom that coincided with a protest against the federal government's changes to degrees, and universities cutting jobs.
That was a far cry from previous weeks, where protestors were broken up even in groups of fewer than 19, spaced apart.
This afternoon, arrests were made after the outdoor classroom finished, and dozens of students then moved off the campus and down City Road and through Victoria Park in Sydney.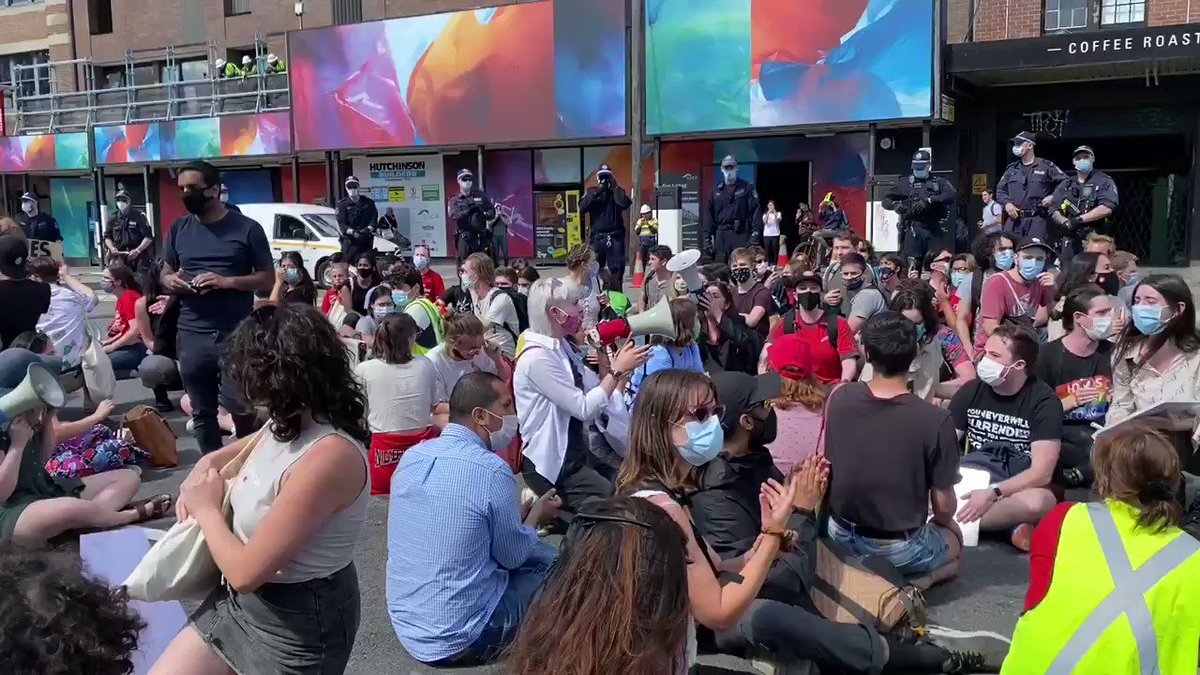 Earlier in the day, academics and students gave lectures on the importance of protest, the issues with university casualisation and other criticism of the higher ed changes – all without arrests.
Yesterday, staff spoke out against against "political censorship" from NSW police and the suppression of freedom of speech, after students were arrested last week for gathering in spaced out groups of 19, even as other students had lunch in larger groups nearby.
In Victoria at the current time:
4268 cases may indicate community transmission – no change since yesterday
554 cases are currently active in Victoria
75 cases of coronavirus are in hospital, including eight in intensive care
18,713 people have recovered from the virus
A total of 2,609,485 test results have been received which is an increase of 15,741 since yesterday.
Of the 554 current active cases in Victoria:
537 are in metropolitan Melbourne under the First Step of our roadmap
14 are in regional local government areas under the Third Step of our roadmap
3 are either unknown or subject to further investigation
Colac Otway has 5 active cases, Greater Geelong has two active cases, Greater Bendigo has one active case and Ballarat has no active cases.
Of the total cases:
18,710 cases are from metropolitan Melbourne, while 1192 are from regional Victoria
Total cases include 9581 men and 10,506 women
Total number of healthcare workers: 3510, active cases: 73
There are 284 active cases relating to aged care facilities
Active aged care outbreaks with the highest cumulative case numbers are as follows:
219 cases have been linked to Epping Gardens Aged Care in Epping
166 cases have been linked to Estia Aged Care Facility in Ardeer
140 cases have been linked to Kirkbrae Presbyterian Homes in Kilsyth
131 cases have been linked to BlueCross Ruckers Hill Aged Care Facility in Northcote
128 cases have been linked to Twin Parks Aged Care in Reservoir
124 cases have been linked to Cumberland Manor Aged Care Facility in Sunshine North
122 cases have been linked to Japara Goonawarra Aged Care Facility in Sunbury
121 cases have been linked to Estia Aged Care Facility in Heidelberg
108 cases have been linked to Glendale Aged Care Facility in Werribee
Victoria Health has put out its daily data sheet:
Victoria has recorded 15 new cases of coronavirus since yesterday, with the total number of cases now at 20,100.
The overall total has increased by 24 due to nine cases being reclassified.
Within Victoria, 10 of the new cases are linked to outbreaks or complex cases and five are under investigation.
Of today's 10 cases linked to outbreaks, four are linked to aged care (Baptcare Wyndham Lodge, Estia Keilor, Japara Elanora and Edenvale Manor), four are linked to existing outbreaks (Alfred Hospital and Dandenong Police Station) and two are linked to complex cases which remain under investigation.
Of today's 15 new cases, there are three cases in Greater Dandeong, two cases in Manningham, Moreland and Wyndham and singles cases in Boroondara, Frankston, Melton, Moonee Valley and Whittlesea. One case is subject to further investigation.
There have been five new deaths from COVID-19 reported since yesterday. One man aged in his 70s, two women in their 80s, one man in his 90s and one woman in her 100s. Three deaths occurred prior to yesterday.
All of today's five deaths is linked to a known outbreak in an aged care facility. To date, 771 people have died from coronavirus in Victoria.
The average number of cases diagnosed in the last 14 days for metropolitan Melbourne is 29.4 and regional Victoria is 1.1. The rolling daily average case number is calculated by averaging out the number of new cases over the past 14 days.
The total number of cases from an unknown source in the last 14 days is 41 for metropolitan Melbourne and zero for regional Victoria. The 14-day period for the source of acquisition data ends 48 hours earlier than the 14-day period used to calculate the new case average due to the time required to fully investigate a case and assign its mode of acquisition.
In other news, the Victorian government IS seeking to claim public interest immunity in the supreme court challenge to its Melbourne curfew.
So what does that mean.
Paul Keating thinks the Reserve Bank is not doing enough to head off the worst of the economic crisis.
He criticises the RBA for being timid – not stepping outside central bank orthodoxy. By that, he mentions the banks unwillingness to consider what we know of as 'money printing' – that's what's he means when he sarcastically pings the RBA for not considering 'buying bonds directly from the Treasury'.
The RBA has been buying bonds from the secondary market – PJK is saying it could cut out the middleman and just buy directly from the Treasury – which is essentially, the Treasury printing money for the bank to distribute straight into the economy.
Keating thinks this is because the RBA's leaders are a bit too concerned with what their international colleagues will think about them at their annual bank for international settlements meeting in Switzerland.
Instead, he says we need out of the box thinking – and he's saying that as someone who had trust in the RBA, even when it came at great political cost to him.
Keating also thinks the central bank needs to start concentrating on helping the government meet the task of full employment.
The theory there is, if you have full employment, the budget takes care of itself.
If you think it is sounding very MMT-ish, that's because it kinda is. There has been a big push for Australia's central bank to adopt some of the MMT measures to get Australia out of the coronacession, and some of its biggest points are what PJK is touching on here.
And he finishes with:



The RBA should return its eye to the Reserve Bank Act. Its job is to help the government meet the task of full employment. Price stability has been more than achieved.

So, the Reserve Bank might do as it was set up to do – help the government.

Be a utility. Shoulder the load. And in a super-low inflationary world, that load is funding fiscal policy. Mountainous sums of it.

In an economic emergency of the current dimension that means putting the orthodoxy into perspective and doing what is sensibly required.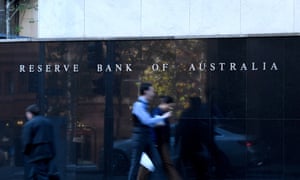 The problem about central banks, and this is true of the Reserve Bank of Australia – it has become a sort of deity, where lesser mortals might inquire, however respectfully, what the exalted priests might be thinking or have in mind for their prosperity or the country at large.

The only difference between the deity and those to be governed is that the Governor and his deputies do not wear clerical collars and black suits. But that is the only difference in their comport and attitude.

Deputy Governor Guy Debelle's meandering thoughts yesterday about the Bank and monetary policy is way not good enough. Not good enough for those likely to be unemployed. Not good enough for those who have already lost their retirement savings.


Not good enough for a government trying to fund a massive support program for an economy in distress.


The Reverse Bank has to quickly rediscover the gear stick and make the shift back to forward.
PJK continues:



Knowing full well that monetary policy can now no longer add to nominal demand – something that now, only fiscal policy is capable of doing, the Reserve Bank is way behind the curve in supporting the government in its budgetary funding measures.

For a moment, it showed some unlikely form in pursuing its 0.25% bond yield target for three year Treasury bonds and a low interest facility for banks.

But now, after 600,000 superannuation accounts were cleared and closed down, with 500,000 of those belonging to people under 35 – a withdrawal of $35bn in personal savings, and further demands arising from the employment hiatus in Victoria, the Deputy Governor of the Bank, Guy Debelle, yesterday strolled out with debating points about what further RBA action might be contemplated.

As history has shown, when a real crisis is upon us the RBA is invariably late to the party.

And so it is again.

The Reserve Bank Act has two objectives – price stability and full
employment.


Well, for the moment, we don't need to worry about price stability. One would need a microscope to find any serious impetus to inflation. But we do need to worry about full employment. And that is where the Reserve Bank Act is relevant.

The Act says the Bank and the government should endeavour to agree on policies which meet that objective – in this case, employment.

In other words, the Bank should be explicitly supporting the government so the country does not experience a massive fall in employment – impacting particularly on younger workers – those who have already been obliged to wipe out their superannuation savings to support themselves.

But instead of that, in funding a level of government outlays by buying appropriate levels of government debt and locking it away on its balance sheet, thereby making the government's funding task much easier and support for the country better, the Deputy Governor conducts a guessing competition on what incremental step the Bank might take to help.

It has to be remembered, these are the high priests of the incremental.

Making absolutely certain that not a Bank toe will be put across the line of central bank orthodoxy.

Certainly not buying bonds directly from the Treasury – wash your mouth out on that one – what would they say about us at the annual BIS meeting in Basel?


Not even ambitiously buying sufficient bonds in the secondary market, like the European Central Bank or the Bank of Japan.
Paul Keating has put out one of his rare (although not so lately) statements.
This time, it is on the Reserve Bank and monetary policy.
I would never presume to be able to summarise Paul J Keating, so here it is:



In my office during the latter part of the 1980s and the early 1990s, we had a nickname for the Reserve Bank – the Reverse Bank.

And what earned the Bank that nickname was that the Bank was too slow lifting interest rates in the face of the commercial bank credit bubble of the late 1980s and too slow in getting rates down in the early 1990s.

This gave Australia a recession deeper than it would have otherwise had, notwithstanding that the commercial banks' crazy credit behaviour had to be stopped and gains against inflation had to be protected.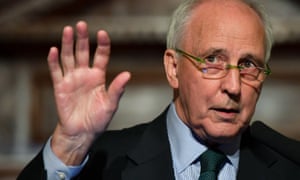 As Treasurer, I personally wore the cost of the Bank's indolence in the task of smashing inflation – as it turned out, an outcome which gave Australia 30 years of low inflationary growth thereafter.

And as a measure of my voluntarily agreeing to give the Bank more discretion over interest rates, as prime minister, I wore the Bank increasing interest rates by 2.75%, 275 basis points, in 1994 – at great political cost to me.

No one in Australian public life had done more to lift up the Reserve Bank while giving it a singular discretion over interest rates than I did. And no one carried a greater cost of it.

Peter Costello's letter later about so-called independence was simply a costless acknowledgment of a structural change that I had already set into place.

But the Reserve Bank is now having another one of its dalliances with indolence.
Graham Readfearn has the latest on the stranded Tasmanian whale pods. It is not good news:
AAP has an update on what is happening with the icare bonuses:
NSW Labor has introduced draft legislation to end executive bonuses at scandal-ridden insurance agency icare.

The opposition's move follows claims that eight icare executives shared $8m in salaries and bonuses over two years.

NSW opposition spokesman Daniel Mookhey said the State Insurance and Care Governance (Employees) Bill would strip icare of the power to pay its executives more bonuses and introduced it to the upper house on Wednesday morning.

"icare should never have paid them millions in salaries and bonuses," he said in a statement on Wednesday.

The agency is an employer-funded workers insurer, owned by the state and overseen by the NSW treasurer, but independent from government. It was one of three organisations that replaced WorkCover in 2015.

It provides workers compensation insurance to more than 326,000 businesses, insuring 3.6 million employees.

The insurance agency has been under scrutiny since July when NSW treasurer Dominic Perrottet came under fire after reports of poor financial management and staffing issues with the agency.

There was further scrutiny when it was revealed two icare-paid ministerial staffers had been recruited to work on secondment in his office.

"icare's top executives ruined the NSW workers compensation scheme," Mookhey said.

"I expect Dominic Perrottet to vote for Labor's legislation. If he doesn't, he's voting to pay icare's top executives more bonuses."
This rule is one of the reasons I am not allowed an office cat at parliament house.
And that's that for Paul Fletcher.
Daniel Hurst will have a story on that for you soon.
Back to Paul Fletcher for one last question:
Q: Just on some of the laws that the Right to Know campaign want to change. One of them is around defamation which was touch on earlier. I wondered in your opinion, there's a lot of people in the sector who say that it is no longer fit for purpose. Do you still think that the defamation laws in this country are still acting as they're intended to?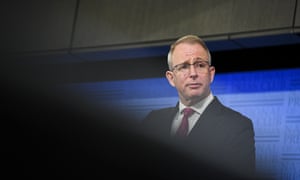 Paul Fletcher:



Defamation is a very complex area, and to be honest with you, I'm not going to venture an opinion on it.

The policy responsibility for the area primarily sits with the attorney general and the commonwealth government, and actual frankly, attorney generals, because the state laws to a material extent.

Clearly, I have an interest as communications minister in having a vigorous media sector. But beyond that, I'm not going to wade into what is a very complex area unless and until I've done the recognise which amount of study that mix me feel my opinions are worth expressing.
There have been, surprisingly, no arrests made yet at a protest against the federal government's changes to higher education policy, held today at the University of Sydney.
Previously, dozens of students and staff have been arrested and fined at earlier protests held at the university, even as they stuck to groups smaller than 20.
Yesterday, staff spoke out against "undemocratic" behaviour from NSW police, saying it was suppressing freedom of speech to arrest protestors under Covid regulations, while letting other students have lunch, or even attend classes of 30 to 40 people.
Today, the protest has coincided with an outdoor teaching event, held by staff, who are delivering lectures on the importance of protest, the issues with university casualisation and other criticism of the higher ed changes.
There are over a hundred students and attendees sitting outdoors listening currently.
The student newspaper, Honi Soit, report that the university asked the police not to break this event up today.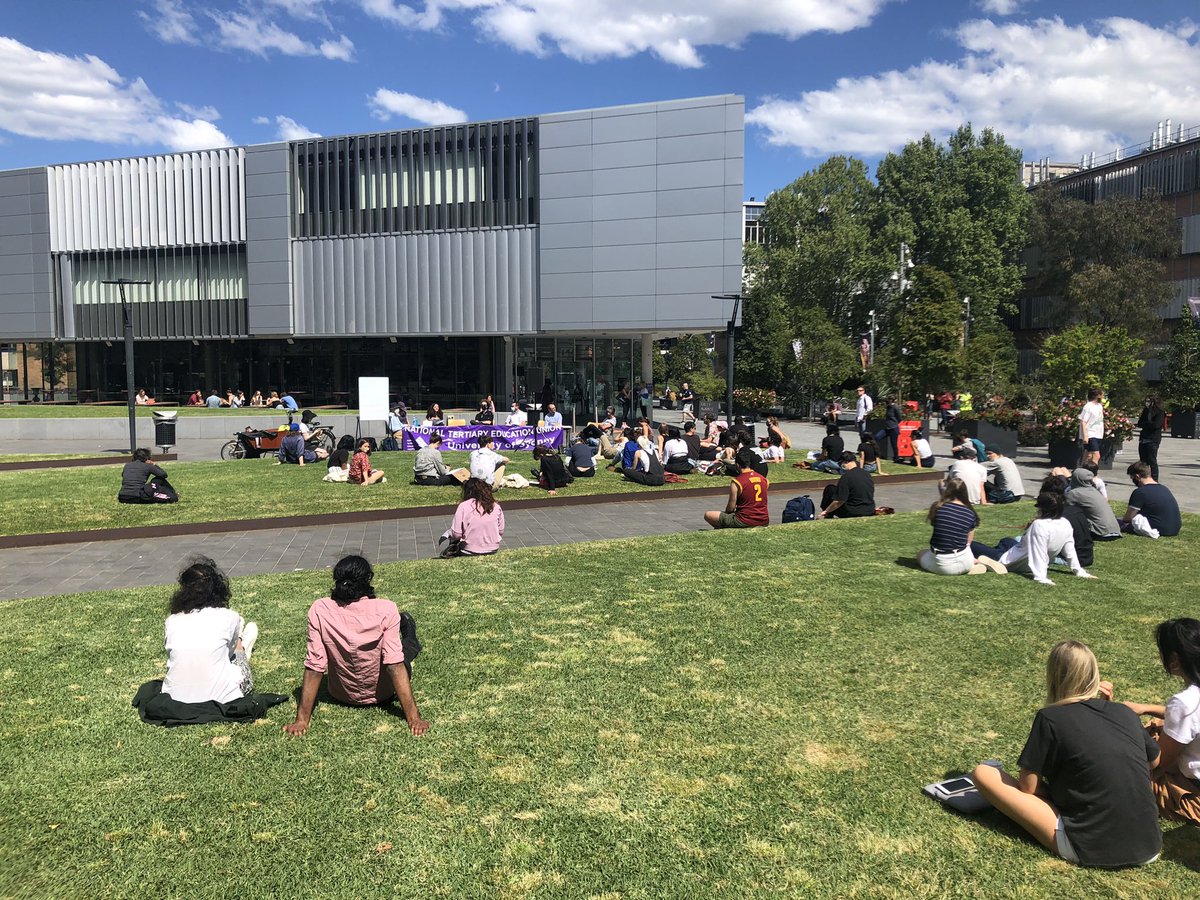 Friends and readers in the arts, feel free to respond.
Q: So ministerial responsibility – could you explain what it actually means?
Paul Fletcher:



Let's take the questions one at a time. So let's come to your question about jobkeeper. The facts are clear, there's been about $330m paid out through jobkeeper for people who are in what's called the performing and creative arts subsector. That's at Australian Bureau of Statistic's terminology. There's about 40,000 people in that subsector. About two third of them are getting jobkeeper. When you look at the job types of people in the sector, about 99% are eligible for jobkeeper.

So this line that jobkeeper is not well adapted to people in the arts sector is completely wrong.

It's a Labor talking point.

It does not stack up with the evidence and over $330m has been paid out to people working in the performing and creative arts.


On the question of ministerial responsibility – the point that I would make is that the focus of the auditor general's report, rightly, was that officials at a certain level within the department provided a misleading brief, an inadequate brief to the deputy secretary, who was the decision making minister. The deputy secretary made the decision – not the minister.

And it's very clear from the auditor general's own conclusions – not my conclusions but the auditor general, that what was provided to the deputy secretary and what went to the minister was seriously deficient.
Q: A simple yes, no and don't know. Firstly in regard to a follow up from the question. Isn't the doctrine of ministerial responsibility actually that you are responsible for what happens within your ministry? And haven't you failed to actually follow that through by doing nothing about the auditor general's report?
Secondly – in regard to Annika Smethurst's issue – you have said how concerned you've been over the last 11 months about the raids on journalists, but the reality is that you have done absolutely nothing. Is that correct or not?
And thirdly – in regard to your other portfolio, which is arts – we know for example that ushers in cinemas receiving jobkeeper – isn't it true that there has been no special support for the arts ministry, for those people who are actually producing content and contributing to the arts in Australia? You asked for a simple answer.
Paul Fletcher:



My answer to all three of these is no. I disagree on all three.
Q: What are you doing about phone scammers who are terrorising people, pretending to be from the Tax Office, threatening people with arrest and what not, if they don't hand over money. It is actually a thing at the moment?
Paul Fletcher:



Yes, we do have a significant issue with scams. The ACCC leads project called Scam Watch and the ACMA, the Australian communications and media authority within my portfolio, is leading a major portfolio within the industry on how we can crack down on scams. One of the issues has been that a lot of scammers have been using so-called spoofing or over-stamping of the number from which the call appears to originate.

So Australians will get a phone call. It will look like it's coming from a well recognised number that's used by the Australian Tax Office or another well known organisation that advertises inbound numbers.

There's been a number of things that the industry has done on that particular issue, including the use of software to identify a lot of these calls which originate from overseas. They're very large scale criminal operations, so use of software to identify a particular source as these numbers come from.

Just in the last week, my colleague Stuart Robert, who has responsibility for the National Disability Insurance Scheme, where there's also been some of these scams, announced some arrangements with Telstra to work on these.

So we are working. The industry is focused on this. Working with the regulator and we're also working with some of the largest organisations whose name and brand are being used in the scams.